You might have been to different places around the world and stayed in many posh five star hotels in different cities across the world. But, have you ever felt the same as you have been at home? No place in the world creates such a feeling of belongingness as your home does. We take utmost care about our home and everything we buy for our home whether it is a simple door mat or expensive wardrobe.
What could be the best furniture for home decoration? And would you prefer to buy simple items of wooden furniture or make them on your own? Read on to know which is a better for you and why is it so.
Furnish your home with beautiful items of furniture
Home without proper furniture offers an empty and vacant look as if nobody is living in there. You must furnish your home with the most essential items like chairs, dining table along with chairs, bed, dressing table and wardrobe. In addition to the essential furniture, you might consider going for some more items like wooden tables and corners shelves.
When you are selecting the beautification furniture items which are not so essential, you must exercise caution and care and choose the items that enrich the beauty of your home. There are certain factors that you must consider when you for furniture items purely for beautification purpose. Let us see what they are.
Which is better buying or making on your own?
You have got two choices: either you can go for outright purchase of new furniture or you can make your own furniture. What is your choice? If you are totally new to making wooden furniture items I cannot suggest you to make your furniture items. But there is nothing wrong to learn and try making small furniture items like a stool, tea table, children's study table etc.
On the other hand, if you have got some experience in making wooden furniture items, I strongly suggest you to make a few items of your choice. If you are able to work with most of the tools to make wooden furniture, it will be very easy for you to make furniture items for your home.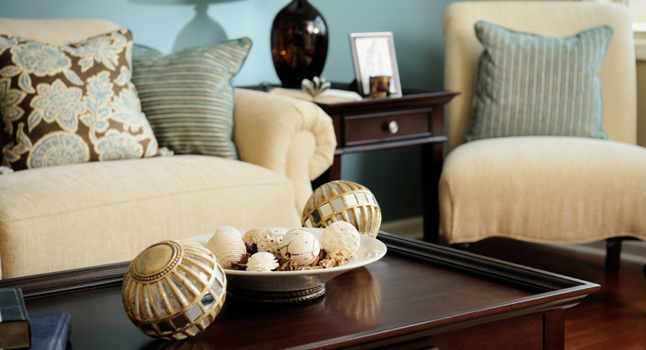 What tools can you use? I think many of the latest tools are very easy to work with. They don't require too much physical effort. The power tools enable to work easily. Tools like power saws, routers make your task easier. Moreover, it is very easy to use them. Recently I have taken DEWALT DWP611PK wood router which I found very convenient and easier to use. I have made three corner tables with it within a span of three weeks working just one hour every day. I am not a professional wood worker – it is my leisure time activity.
Select simple items that enrich beauty without being extravagant
The secret of beauty lies in simple designs. Choose the items that are simple by their design. A simple design doesn't mean that it is not beautiful. If you think that only extravagant designs and intricate patterns make beautiful things, I think, you need to relook at your sense of beauty.
Never ever consider that it is only the most complex designs and many complicated patterns lend beauty to furniture items. They are beautiful and there is no doubt about it. But, at the same time, the simple and innovative designs attract us most elegantly.
It is a novel idea that catches our attention rather than the superficial decoration of a piece which is made in the old fashion. When you are doing wooden furniture items on your own, select a few simple designs and think of how you can make them look different.
Plan to make some on your own and save money
When your pocket won't allow you to go for making big furniture items, select items that are useful at your home and which are simple. Choosing simple items to make saves not only your money but also your time. By making a small innovation in the design, you can make it look entirely new.
Just see some of the simple furniture items like corner tables, wall decorations, tea tables, TV table, and kids' study table etc. Find new models of making them by visiting the retail wood furniture stores either online or offline and study the model for a few minutes.
If you like a particular model and decided to work on that, spend some more time studying the exact measurements and requirements to make it. It is easier for you to find information on many websites which provide you all the information you require.
Choose the right tools before you start your work
After choosing the item and the design, the next step to plan is the right set of tools. Plan what tools are required for making the item you have chosen. The table saw, grills, routers and scales are some of the few things you need. In addition, you can have some materials for making the surface smooth and remove the roughness.
When you are selecting a wood router, I have got a few words of advice for you as my experience has enabled me to choose the right kit for making home furniture for decoration. Choose a router that is easier to use and convenient for your purpose. The best one for making home decoration furniture is DEWALT DWP611PK router. It has got all the features that you look for in router. Moreover, it makes your task easier and enjoyable.